Rainbow fruit salad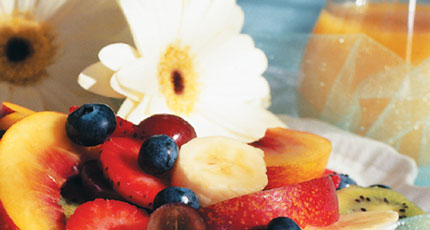 Makes 12 servings.
Ingredients
Fruit salad:
1 large mango, peeled and diced
2 cups fresh blueberries
2 bananas, sliced
2 cups fresh strawberries, halved
2 cups seedless grapes
2 nectarines, unpeeled and sliced
1 kiwi fruit, peeled and sliced
Honey-orange sauce:
1/3 cup unsweetened orange juice
2 tablespoons lemon juice
1 1/2 tablespoons honey
1/4 teaspoon ground ginger
Dash nutmeg
Directions
• Prepare the fruit.
• Combine all ingredients for the sauce, and mix them together.
• Just before serving, pour honey-orange sauce over the fruit.
Because it's made from fresh fruit, this salad is naturally low in fat and sodium, and it's cholesterol-free.
Nutrition information
Serving size: 1/2 cup. Amount per serving: 96 calories,1g total fat (less than 1g saturated fat), 23g carbohydrates, 3g fiber, 1g protein, 3g dietary fiber, 4mg sodium.
Source: National Institutes of Health
© Coffey Communications, Inc.