Setting things straight
A complex surgery case calls for persistence, precision, and innovation
More than a decade ago, when Alejandro Noriega was in the seventh grade, he fell while playing soccer and broke both bones in his left forearm. He was in a cast for three months, but the bones did not heal correctly. They were crooked—and Alejandro's arm was significantly deformed.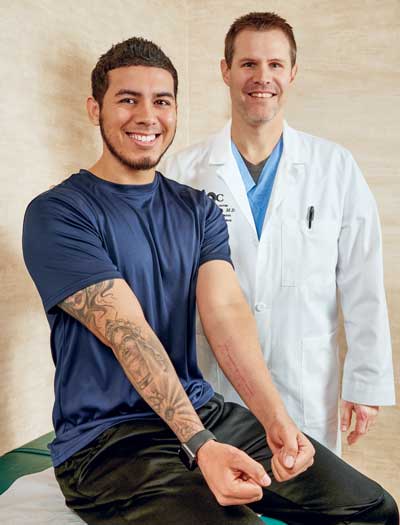 "You could actually feel where the bones overlapped in my arm, and if I bumped it on something or got hit on that spot, it was really painful," Alejandro says. "The injury also made me very self-conscious. I never wore short-sleeved shirts."
Facing a complicated challenge
In March 2018, Alejandro, now 25 years old, saw Lawrence Huff, MD, a licensed orthopedic surgeon who performs surgeries at Dignity Health–St. Rose Dominican's San Martín Campus. Dr. Huff, a Las Vegas native and former professional baseball player, specializes in complex surgeries of the shoulders and arms.
Dr. Huff knew he was facing a real challenge with Alejandro, whose arm had limited motion besides being painful sometimes: "His case was complicated. He broke his arm when he was young, so the bones healed more thickly than they would have if he were an adult."
To fix a crooked bone, the surgeon must cut the bone, take out a small wedge, then put the bones back together—using a plate to hold them in place—until they heal. According to Dr. Huff, it's a surgery that requires ultraprecision for the best fit and result.
Seeking an innovative solution
While Alejandro's first doctor visit took place in March, the surgery wasn't performed for another six months. Dr. Huff spent that time securing the best possible outcome for Alejandro. His case would be the first at San Martín to rely on a new 3-D printing technology, developed by the Belgian company Materialise. Dr. Huff did extensive research on the software and instrumentation, then asked the San Martín leadership team for their support to purchase it.
What's up with this joint pain?
If you have lingering discomfort that's affecting your life, it may be time to explore your options for relief. Take a quick joint risk assessment at
StRoseHospitals.org/ortho
.
After receiving approval, there were still several steps to accomplish before the surgery could take place. A CT scan was done on Alejandro's normal arm and on his injured arm. Those scans were then submitted to Materialise, and a computer model determined the proper place and angle to make the cuts on the injured arm.
A 3-D model was then made of the bone, and the computer created a "guide" that was placed on the crooked bone. This 3-D guide was formed to fit only on the correct position of the arm and showed where Dr. Huff should make the cuts—and even where screw holes should be placed for a perfect fit.
Moving forward with gratitude
Alejandro had his surgery in mid-September 2018. By the end of October, he had nearly finished his physical therapy and was looking forward to returning to work in a matter of days.
"After all of these years, thanks to Dr. Huff and St. Rose Dominican, it's a huge relief for my arm to look normal, to be able to move it more easily, and to be rid of the pain," Alejandro says. "I have absolutely no regrets."
Your new life awaits: Feel the glory, not the pain!
Are you living with nagging discomfort? Troubled by an old injury? At St. Rose Dominican, we're standing by to help you get back to your active life.
Care begins here. Let's talk about how we might help. Call 702.707.9224.
Back and neck
Hand, wrist, and elbow
Shoulders
Foot and ankle
Knees and hips
Sports and overuse injuries