Strong & steady
Orthopedic surgeon offers new life to injured knees and ankles with advanced technology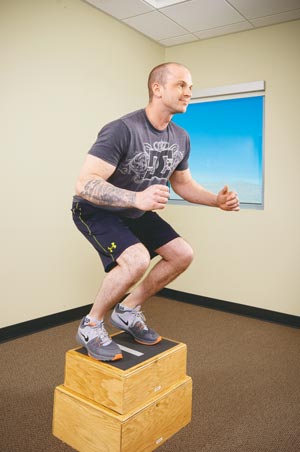 Jumping back into life.
Casey Craven was trying out for
American Ninja Warrior
when his Achilles tendon gave out. But it's not stopping him now.
Brace yourself. That's something we might say to ourselves—or someone we care about—to help face a bump in the road with strength and resilience.
When that hard knock is a knee or ankle injury, orthopedic surgeon Roddy McGee, DO, is offering his patients a super-strong internal brace. This innovative technique helps people bounce back quicker—and with less discomfort—from injuries.
Dr. McGee uses this internal bracing technique to repair common sports-related mishaps, including ACL (anterior cruciate ligament) injuries in knees, Achilles tendon ruptures in ankles, and elbow injuries.
With this internal bracing technique, surgeons can use smaller incisions, so there's less pain and swelling. "The faster recovery times mean you can return to an active life quicker," Dr. McGee says. "The internal brace is a super-strong suture material that repairs the injury, provides temporary stability during healing, and is anchored into the bone. The plastic anchor eventually dissolves."
From tattered and torn to strong and steady
If you're a sports fan, you know that many knee injuries involve the ACL, the smallest of the four main ligaments in the knee. It is the main stabilizing ligament in the center of the knee. It keeps your shinbone (tibia) from sliding forward and rotating on your thighbone (femur).
Treatment for ACL injuries is typically reconstruction, often using tendons from other places in the body. By using the internal brace technique, surgeons can offer additional strength and support to the reconstructed ligament. It stabilizes the ligament, helping it heal at an appropriate length. It accelerates recovery—allowing people to walk more naturally and return to their activities sooner.
'I knew what happened immediately'
Your Achilles tendon is the largest tendon in your body, connecting your calf muscle to your heel bone. You need it for walking, running, and jumping. It's strong, but it can still be vulnerable to painful injuries in both professional and recreational athletes.
Just ask Casey Craven. In February 2017, Casey was trying out for a regional level of American Ninja Warrior when his Achilles gave out in a painful and dramatic way.
"I was on the last obstacle, the 18-foot warped wall, when it popped. I knew what happened immediately," Casey says. "It was an intense pain that felt like someone hit me in the back of the calf with a baseball bat."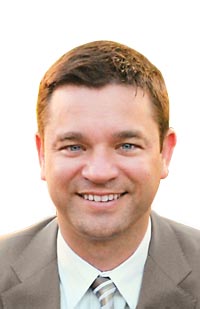 Roddy McGee, DO Orthopedic surgeon
Dr. McGee repaired Casey's Achilles with the internal brace technique. As with ACL repairs, internal bracing offers added stability—through a single small incision. Several sets of strong sutures tie together the ends of the tendon. This internal infrastructure braces the tendon during healing. Again, the result is less pain and a speedier recovery.
"Previous repair techniques would require the patient to be in a cast for six months," Dr. McGee says. With the internal brace technique, patients typically recover much more quickly, he says.
Casey wore a boot for four weeks before he went back to his job as an operating room technician—and to his athletic pursuits, as well. He hasn't had a problem since, even doing strenuous workouts, he says.
Great Scott!
Professor Gordon Mackay, a leading sports surgeon from Glasgow, Scotland, developed the internal brace technology for joints. This innovative solution is now bringing relief to athletes and active people in southern Nevada, thanks to orthopedic surgeon Roddy McGee, DO.
One coach's game plan: Get it done!
A kinder and custom approach to knee replacement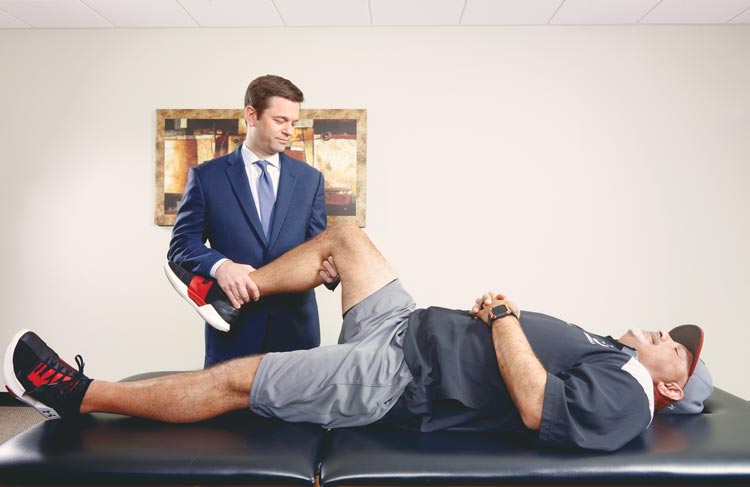 Sam Thomas, baseball coach at Las Vegas High School, knows how important having the right equipment is to sports success. For him, that includes two custom knee implants.
When Sam first considered knee replacement at the age of 52 to relieve the pain of osteoarthritis, he thought maybe he was too young. He'd heard he should wait until he was at least 55.
But advances in total knee replacement convinced him otherwise, and today he's really happy with his custom implants. He got his right knee replaced in June 2015—and then his left in August 2017.
A perfect fit
In the past, orthopedic surgeons had to rely on "off-the-shelf" knee implants from a range of standard sizes, says Roddy McGee, DO (pictured above with Sam). That required surgeons to adjust the bones in the joint to fit the implant. Today, Dr. McGee uses implants that are customized specifically for the patient—the ConforMIS customized knee implant.
How does it work? A CT scan of the patient's knee is converted to a 3-D model. It's used to design an implant to match the knee precisely. The custom fit follows the shape and contour of each patient's knee—so the bone doesn't have to be altered as much to make it fit. After surgery, these custom knees feel more natural and cause less pain than standard implants.
Sam's advice? "Don't wait—get it done," he says. "Less bone is being removed, so even if I do have to have a knee replacement again sometime in the future, I'd feel very comfortable doing it. In fact, the second replacement actually felt better quicker than the first."
Move forward with confidence.
Find an orthopedic surgeon who does custom knee replacements at St. Rose Dominican by calling
702.616.4900.