Moroccan chicken salad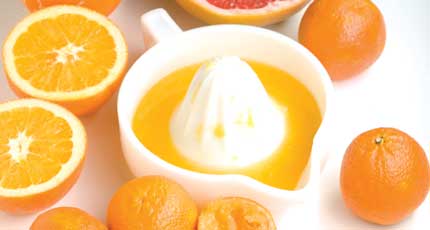 Makes 4 servings.
Ingredients
Salad
2 large hard-cooked eggs
2 cups diced, cooked chicken breast, in bite-size pieces
1 navel orange, peeled and chopped
1/4 cup golden raisins
1/4 cup toasted, slivered almonds
4 tablespoons chopped flat leaf parsley, divided
Dressing
1/4 cup orange juice
1/4 teaspoon ground cinnamon
1/8 teaspoon ground ginger
1/8 teaspoon ground turmeric
1/2 teaspoon sea salt
Freshly ground pepper
1 tablespoon extra-virgin olive oil
Directions
Halve eggs. Place 1 yolk in small bowl and set aside; discard second yolk. Coarsely chop egg whites and place in medium mixing bowl. Add chicken, orange, almonds, raisins, and 3 tablespoons parsley to egg whites. Using fork, toss to combine.
For dressing, mix orange juice with egg yolk, mashing to combine. Whisk in cinnamon, ginger, turmeric, and salt until blended. Add 4 to 5 grinds of pepper. Whisk in oil.
Pour dressing over chicken mixture and toss with fork to combine. Let salad sit at room temperature for 30 minutes before serving to allow flavors to meld. Top with remaining parsley.
Nutrition information
Serving size: 1 cup. Amount per serving: 274 calories, 12g total fat (2g saturated fat), 15g carbohydrates, 27g protein, 1g dietary fiber, 319mg sodium.